The Hynes provides the most advanced network services of any convention center in the world. Our award-winning staff of IT professionals will connect you with the technologies you need to bring your vision to life! We're happy to provide you with full technology support, or accommodate your technology staff in our Guest Network Operation Center (GNOC).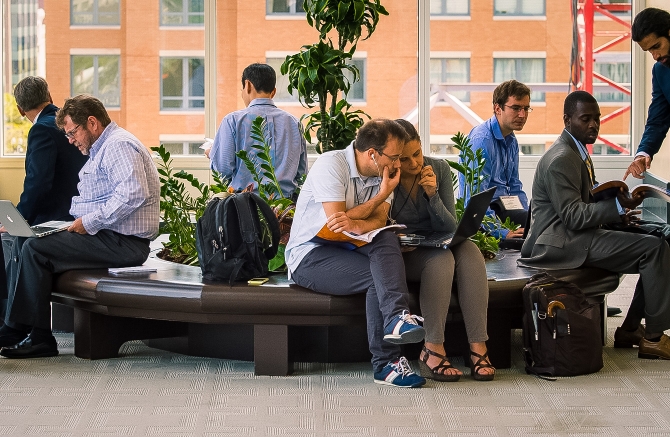 Our Wi-Fi is Always Free!
Custom-designed Wi-Fi throughout the Hynes uses 252 access points and specially selected and tuned antennas (both directional and omni-directional) to deliver the best Wi-Fi of any convention center, period. The MCCA assembled a team of specialists on wireless technology, including the industry's leading expert, Neil Reid. The network in the Hynes provides superior connectivity and performance up to 15,000 devices simultaneously, enough for events of all sizes even when taking into consideration that each attendee carries an average of 2.5 mobile devices.
A Robust Wired Network
Every Ethernet drop in both of our buildings carries at least a Gigabit of bandwidth, and every drop is available with VLAN support to isolate your sensitive network traffic. If a Gigabit isn't enough, work with our team to connect your high-demand services directly to our buildings' fiber optic backbone. More devices, more bandwidth, better security.
Dark Fiber Ring
A robust, 10 Gigabit, fully redundant dark fiber ring around Greater Boston provides real-time access to data rates up to 10 Gigabits per second. The network is fully scalable to rapidly accommodate future needs.
Cross-Connect
Our Dark Fiber Ring terminates in a facility that hosts over 80 different Internet providers and carriers. A cross-connect can bring your corporate network directly to your office or booth on our show floor at Gigabit speeds with no VPN necessary.
Endless Technology Capabilities
Our technology extends far beyond the expected. We are continuously working to provide you, your exhibitors, presenters, and attendees with the latest in technology capabilities.
IPTV
Need to simulcast your keynote to screens in one meeting room or fifty? Want to stream to mobile devices in real-time? We can do that.
Video Transport Service
Our Switch Video Transport Service provides local and long-haul video transmission services over fiber. If you need to connect a video stream out of our facility, whether it's SD or HD, compressed or un-compressed, this is the solution for you.