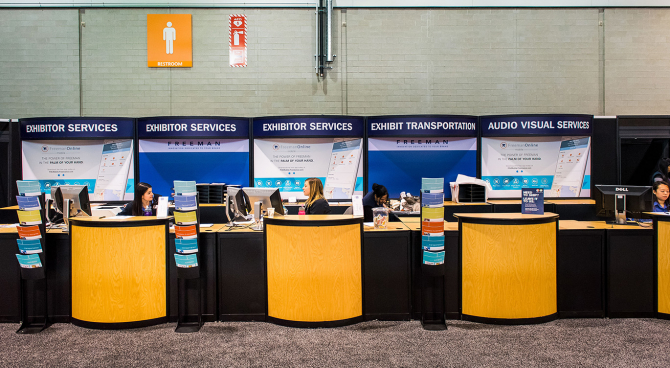 Your Exhibitor Services Team
Our Exhibitor Services Team is available to assist you before and during the event by offering you the service, technology, and resources that will help make this event the ultimate success.
Move-In & Move-Out
Moving-in and out of a convention center has never been easier thanks to our flexible labor rules that provide you with options for your setup and break down.
Catering
Whether you're hosting an event or just looking to drive more traffic to your booth, Levy Restaurants, our exclusive food and beverage provider for catering and on-site concession, can fulfill your every food and beverage need.
Where to Stay
No matter your budget, Boston offers a variety of hotel options from large to small, luxury to budget-friendly. The majority of hotels are close by to our convention centers (or even connected!) and are easily accessible by public transportation.
Venues for Entertaining
If you are planning on hosting a reception or dinner during the event, Boston offers a wide variety of different special event venues to suit your needs. From historic museums to large sport arenas, Boston has an option for every interest and budget.
Business Center
A FedEx Office is conveniently located at both the BCEC and the Hynes for your printing, shipping and office supply needs.
Recycling
Recycling bins are available throughout our facilities. Additionally, our Conventions C.A.R.E. program donates non-perishable items from events to non-profit organizations throughout Boston.
Maps & Directions
Whether it's by car, train, bus or on foot, getting around Boston couldn't be easier! You have many options and we highlight a few of them here.