We are committed to providing you with the best technology in the industry. At the BCEC, our IT backbone is like no other, and is supported by an award-winning team dedicated to your success. Your only limit is your imagination!
IT Services
The BCEC provides the most advanced network services of any convention center in the world. Our award-winning staff of IT professionals will connect you with the technologies you need to bring your vision to life! We're happy to provide you with full technology support, or accommodate your technology staff in our Guest Network Operation Center (GNOC).
Our Wi-Fi is Always Free!
Our custom-designed Wi-Fi, accessible throughout the BCEC, uses 514 access points and specially selected and tuned antennas (both directional and omni-directional) to deliver the best Wi-Fi of any convention center, period. We assembled a team of specialists on wireless technology, including the industry's leading expert, Neil Reid. The network in the BCEC provides superior connectivity and performance to tens of thousands of attendees simultaneously, even when each attendee carries an average of 2.5 mobile devices.
A Robust Wired Network
Every Ethernet drop in our buildings carries at least a Gigabit of bandwidth, and every drop is available with VLAN support to isolate your sensitive network traffic. If a Gigabit isn't enough, work with our team to connect your high-demand services directly to our buildings' fiber optic backbone. More devices, more bandwidth, better security.
Dark Fiber Ring
A robust, 10 Gigabit, fully redundant dark fiber ring around Greater Boston provides real-time access to data rates up to 10 Gigabits per second. The network is fully scalable to rapidly accommodate future needs.
Digital Displays
Marquee
Nearly 80 feet tall and providing a display area of 3,000 square feet, the Marquee reaches a daily audience of more than 225,000 pedestrians and motorists, and is visible a half-mile away. It's often the first thing to catch attendees' attention as they approach the BCEC.
Video Wall
Spanning the central section of the north lobby, the 160-foot-wide Video Wall gives you 2,000 square feet of seamless, attention-grabbing video real estate – the perfect way to deliver a high-impact message to your attendees.
Digital Signage Network
An integrated network of 31 65" displays gives you access to audiences across the facility. Better yet, it's easy to coordinate your content with the Marquee or Video Wall.
Learn more about our branding and sponsorship opportunities
Utilities
Utility services at the BCEC are designed to support every exhibitor and service vendor need. Utilities are conveniently accessed from floor boxes built into all exhibit halls, meeting rooms, ballroom, function, and registration areas. Our support staff is trained and ready to help with any utility needs your exhibitors and service vendors have.
Electrical Service
Electrical service includes 120v, 208v, and 480v, and single- and three-phase electrical service (of various amperages)–ranging from 5 to 400 amps–throughout the exhibit halls. They are available on 30' x 30' centers. The UPS power in the data center was recently upgraded.
Water, Drain, and Compressed Air Service
Compressed air, water, and drain service is available in most areas of the exhibit halls on 30' x 60' centers. Water and drain service includes lines with up to 1"–approximately 110 PSI–to fill and drain water and supply drain lines–up to 3". The lines offer heavy load capabilities.
Audio Visual
Sound System
All meeting rooms offer a wired microphone and a built-in sound system. Additional equipment is available based on your program needs, including wireless microphones, playback devices, and an upgraded sound system.
Recording
Access a central recording room for use by A/V and recording companies, allowing all meeting areas–meeting rooms, exhibit halls, and the ballroom–to be recorded from this location.
Broadcasting
All BCEC meeting rooms are connected to a central system which allows common or individual broadcast of any live session to any room. Cable HDTV services are provided throughout the entire building.
Paging
Paging is available throughout the building. This service is free of charge during show hours and move-in/out periods and can be done from anywhere in the building.
Rigging & Lighting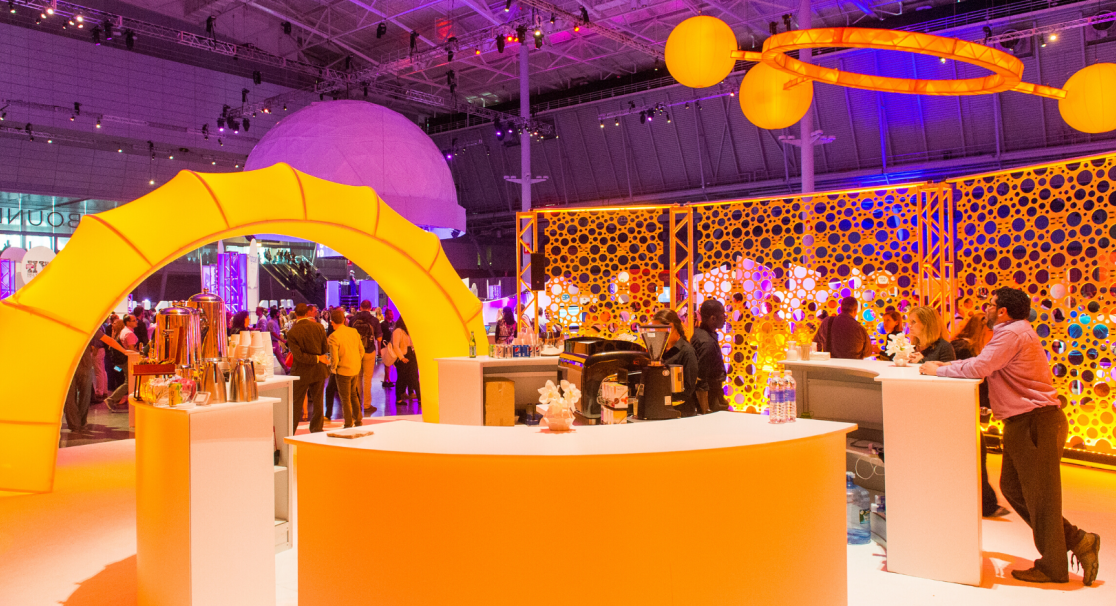 Our internal rigging partner, JCALPRO, is available to perform aerial rigging in the exhibit halls, ballroom, function areas, and designated exterior areas of the convention facilities. You can also choose from a variety of technical support services, which include lighting, audio, video, projection, and elaborate staging setups, as well as production and stage management.
Signature Boston also offers customized rigging and lighting solutions for exhibitors with more complex or unique requirements. This option is best suited for exhibitors with larger signs, multiple signs, and/or overhead lighting.
Rigging
We offer package rigging solutions. Packages include all lifts, labor, and rigging equipment–cables, pipes, and hardware–necessary to install and remove signs and banners. We also offer solutions for special rigging requirements.
Lighting
Lighting kits include a combination of Lekos, Source 4 Pars, and Par 64s based on layout and design requirements. This option is especially suited for those with larger signs, multiple signs, and/or overhead lighting.