Our public transportation system, the MBTA, or "The T" to locals, connects all of Boston and its suburbs by subway, rail, bus, and even boat! Whether you're riding by taxi, Amtrak, or The T, our convention centers are conveniently located near several major hubs of public transportation.
BCEC
The BCEC is steps away from the MBTA's Silver Line World Trade Center stop, which is the same line that services Logan Airport. Is it a nice day? Take a 15-minute walk from South Station, which serves as one of Boston's major transportation hubs, with MBTA bus and red line subway service, as well as commuter rail service to across New England, and Amtrak and bus service to many points across the country.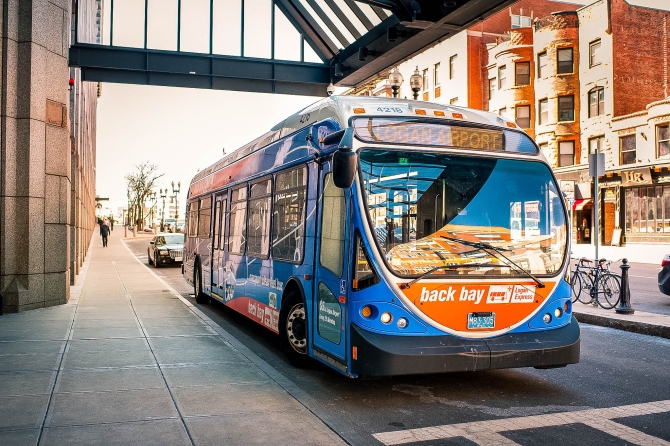 Hynes
The Hynes Convention Center is conveniently located close to four T stops – the Hynes Convention Center stop, Prudential Center stop, and Copley Square stop on the Green Line and the Back Bay stop on the Orange Line. Need to go to the airport? Hop on the convenient Back Bay Logan Express shuttle, which departs from the Prudential Center at 800 Boylston Street, which is directly connected to the Hynes (*Shuttle service is free from Logan Airport to Back Bay, and $3 for service from Hynes Convention Center to Logan)
Amtrak Service
Boston is a major hub on the Amtrak Northeast corridor railroad system, and connects passengers to not only the rest of New England, but major cities along the entire east coast. Passengers can pick up Amtrak service in Boston at South Station, just minutes from the BCEC; at Back Bay Station, right down the street from the Hynes; or at North Station for Downeaster service from Brunswick, Maine.
MBTA Trip Planner
The Massachusetts Bay Transportation Authority has a nifty tool called "Trip Planner" that lets you plan your T ride from beginning to end. Simply enter in your starting location at the BCEC or Hynes (or wherever else you find yourself around Boston), and it will tell you where you need to go stop by stop to get here quickly and easily via subway or bus.
Taxi & Ridesharing
Boston is ripe with car service options. Let one of our transportation agents hail you a cab, or use any of the following services to schedule a pick up:
Alternative Options
Consider taking a pedicab as a fun and affordable way to explore Boston or get anywhere in the city.
Boston Pedicab offers regular and pre-scheduled tours and rides at a flexible cost.
Another great alternative to public transportation is Blue Bikes, Boston's public bike-sharing system with 1,800 city bikes and 180 bike stations throughout the city, including stations directly outside the BCEC and the Hynes.
Zipcar is the world's largest car sharing service, giving you convenient access to vehicles located all over Boston, including many close to our convention facilities. Simply reserve cars by the hour or day, all for one low rate. Learn how to become a member, reserve a car and hit the road.