Floor Plans & Specifications
The Hynes Convention Center offers you a compact, collegial environment in the heart of the city, with the latest in convention technology and services. The 176,480 square feet of versatile exhibit space includes four exhibit halls that can be used in any combination. The multi-purpose auditorium with built-in balcony is an ideal for additional exhibits or general sessions, while the 38 meeting rooms and 24,544-square-foot ballroom are just minutes from the exhibit halls.
View floor plans and room specs, and find rooms based on seating style and capacity, with our interactive Space Finder.
In the Heart of the City
Our two minute video of the Hynes Convention Center will give you an overview of the facility including the different spaces available for your event and some highlights on what the surrounding Back Bay neighborhood has to offer. Turn up the volume!
Industry-Leading Technology
At the Hynes, you'll experience a technology revolution - with an infrastructure like no other and an award-winning team dedicated to your success - where your only limit is your imagination!
It's All About the Food
It is all about the food and the thousands of details that surround it. Whether you're hosting an event for 10 or 10,000, our innovative executive chefs and their teams are always eager to customize something new from our creative menus to surprise and delight your guests.
Easily Accessible
The Hynes Convention Center is located just 15 minutes from Logan International Airport with shuttle access via the Back Bay Logan Express shuttle. Boston's geographical location makes it an ideal and easy gateway for both national and international access and gives you access to the most valuable attendee base within a 2-hour travel radius of any city in North America. (Shuttle service is free from Logan Airport to Back Bay, and $3 for service from Back Bay to Logan)
3-2-1 Connect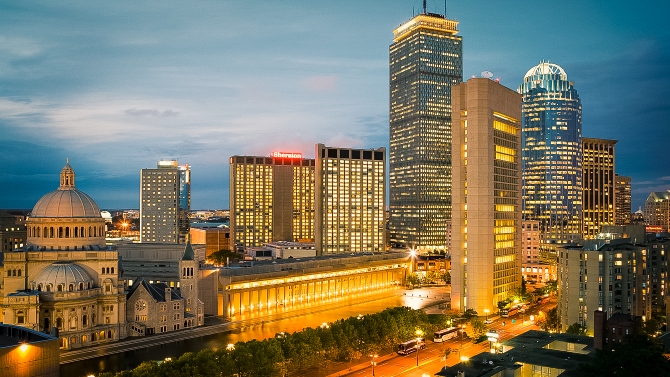 Our 3-2-1 Connect package gives you THREE hotels, TWO shopping destinations, and ONE convention center all under one roof!
A Green Building
Environmental consciousness is something we're very focused on at the Hynes. We maintain a clean environment, promote green practices, and work to protect the environment around each convention center and the City of Boston as a whole.
Event Planning Guide
The Hynes comprehensive planning guide helps you to make the most of your event with a detailed list of services and ways to take advantage of them.