Play Games!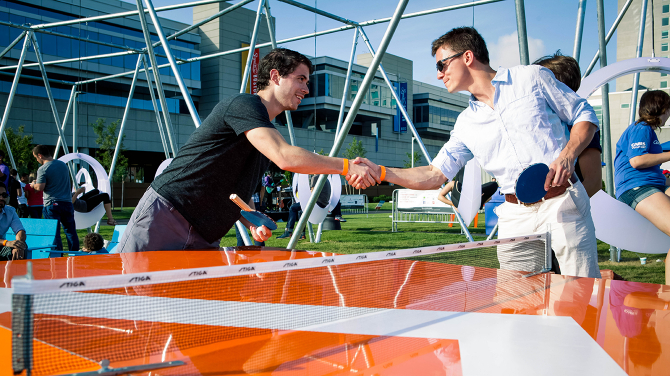 The Lawn On D offers a variety of outdoor games for visitors of all ages. Break the ice with a game of bocce, ping-pong, cornhole, or Jenga. Our game equipment is available to the public during Open Lawn hours, when the Pavilion On D is open and will be supervised by Lawn On D staff!
Concessions
Rebel Restaurants serves as our food & beverage provider. They bring their restaurant chops to The Lawn On D with an expanded concessions menu that includes grill favorites, wraps, deli sandwiches, salads, snacks, and beverages.
Swing Time
The ever-popular Swing Time returns to The Lawn On D this season. Swing Time is an engaging set of swings outfitted with solar-powered LED lights that change color when swung at varying speeds and heights. This immersive and visually stunning public work of art interacts with guests and reflects the playful nature of The Lawn On D.

Swing Time 3.0 debuted in July 2016 and includes some design improvements, including a sleeker design that incorporates the attachment point into the shape of the swing. The new swings are fabricated through a roto-molding process, which makes them more robust, but also smooth and seamless.